⬅ Return to collection
1st Edition : Out Of Print : Modern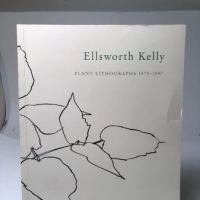 Ellsworth Kelly Plant Lithographs 1973-1997 Catalogue for Susan Sheehan Gallery 1999 1st Edition with Price Sheet
Title: Ellsworth Kelly Plant Lithographs 1973-1997
Published by: Susan Sheehan Gallery
By: Jeff Perrott
Year: 1999
Includes the Gallery's price list.
Soft cover edition with hard paper end boards. 38 images of the art by Ellsworth Kelly.
"Kelly tendered drawings of plants and flowers from the late 1940s on. Ailanthus (1948) is the first plant drawing that he executed in Boston, Hyacinth (1949) was the first one he did when he was in Paris.Beginning in 1949, while living in Paris (and influenced in this choice of subject by Henri Mattisse and Jean Arp) he began to draw simple plant and seaweed forms.The plant studies are, for the most part, contour drawings of leaves, stems and flowers done in clean strokes of pencil or pen and centered on the page."
Condition: the binding is very good with no pulling or damage to the pages or binding. The back cover has slight wear and signs and minimal signs of use. The Front cover has dent and wrinkles on the middle right side. Please see the images of this area. Light shelf wear marks on the front. The back has small bump on the left side, please see the images for more details of this area.
If you have any questions or need additional images, please feel free to email me.
NOTE:
The shipping price is for US buyers only, if you are an overseas buyer please email me your shipping address to get a quote.
Detail photos Click to enlarge