⬅ Return to collection
Mid-century
This item has been sold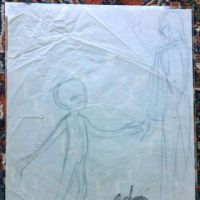 Elois Jenssen Signed Orignal Drawing Close Encounters of Third Kind Circa 1977
Elois Jenssen Original Singed Drawing, circa 1970's of Alien greeting a man. Obviouley the first movie that comes to mind of this era is Close Encounters of The Third Kind.
If you have been a follower of Sturgis Antiques for Years or the past couple years you will remember a drawing that I had of a the monster alien from Without Warning. That piece was signed by Eloise Jenssen too and was stamped with the Costume Guild mark. The piece was late 1970's and the movie was released in 1980, at that time she was a established designer having worked for I Love Lucy TV show, doing her close design.
There is no credits of Close Encounters with her on it but at this time she was doing Hollywood sci-fi and horror work. In 1982 she will win Best Designer for Tron!!!
If you look at her signature on my past listing and this one they are done the same. Also a image search for

So this piece is signed by her in a marker on a "onion skin" paper. The drawing is a pencil and crayon type illustration.
Size: 11 x 14
Condition: the edges are torn on the left side and the top right side has been folded. The image is still intact and in very good condition. Please see images for details.



Detail photos Click to enlarge