⬅ Return to collection
Art : 1800s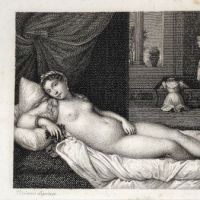 Engraving by Vincenzo Biondi circa 1830s of Titian's Venus of Urbino with Stamped Monogram
Vincenzo Biondi, 1840-1870s was an Italian engraver and a student of Raphael Morghen who both worked and published in Florence Italy.
Most of Biondi's work was at its height in the mid 1800s.
Having an engraver do copies, then the only way of reproducing a work of art outside of a painted copy, the engraving was the height of reproduction and to have it done by the best. Vincenzo Biondi was one the best in the Tuscany region of Italy.
The detailing and soft tones of Titian's The Venus of Urbino (also known as Reclining Venus) has the sexuality of the Venus along with the details of the window and dog and the fine highlights and folds of the sheet. The engraving is small and shows the hand and skill of the artist.

There is a small owners monogram seal on the bottom margins of the plate, "VeB" in a oval. Unkown owner's monogram.
Lower left margin is "Titian dipinse" (Titian depiction) and the lower right margins has V. Biondi des. e inc.
Pencil on the bottom is Titian's Venus
The paper is a heavy rag paper and is period to the engraver.
One note about the engraving, Biondi does change slightly the art, to fit the medium but also he knows what will be translated and what needs to be brought out. The folds of the drapes is one, the painting is darker but the engraving has dramatic folds, giving the hiding in her bed a slightly more erotic tone.
Please see the images of this amazing work and enjoy one of the most erotic images of the renaissance era.
Size: image plate is 4 1/2" x 4 3/4" Paper is 10 1/2 x 15 inches
Condition: fine with light foxing and light soiling to the edges, right top has a fold mark and corners are bumped and slightly curled from storage. The Image has a very light soiling to the paper from age and a very faint and light foxing on the right side margins of the image. Small mark below the image. The monogram is very legible and in intact. The back has light soiling from years of being stored and a catalogue number of 9234.4 in pencil on the back. Please see the images for more details.
If you have any questions or if you need additional images, please feel free to email me.

Note:
shipping cost is for US only, if you are an over seas buyers please email me your shipping address to get a shipping quote.
Detail photos Click to enlarge