⬅ Return to collection
Art : 1900-1940s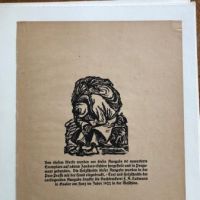 Ernst Heinrich Barlach (2 January 1870 – 24 October 1938) Woodcut The Burden Die Last Page 7 from Der Findling 1922
Ernst Heinrich Barlach (2 January 1870 – 24 October 1938) was a German expressionist sculptor, medallist, printmaker and writer. His art at the start of WWI would shift toward protesting and post WWI with the rise of the Nazi party, his art was labeled as Degenerate Art and confiscated.
His use of heavy woodcut techniques lent itself to the expressionism and translated well in showing suffering. In his book, Der Findling (The Foundling) was published in 1922, the prints were done in 1921 was "Illustrated book with twenty line block reproductions after woodcuts, one line block reproduction after drawing on title page, and one line block reproduction after drawing (duplicate of title page) on front cover"
The book was a small edition of 1000, the items poster here.
Title: The Burden (Die Last) (headpiece, page 7)
Medium: Woodcut
Publisher: Paul Cassirer, Berlin
Printer: F. A. Lattmann, Goslar
**F. A. Lattmann, Goslar was a Playing Card Printer that started in the late 18th c.**
Page Number:
Year: 1922
Edition of 1000
Note: each page is from the original publication of the Der Findling
Visit the full book reproduced here: MoMa

Size: each page is 12 3/16 x 9 1/4 inches
Condition: Each page was carefully removed from the original binding and hinged at the top corners, each page has a right top corner tear at the hinge, please see the images provided for more details.
If you have any questions or if you need additional images, please feel free to contact me.
Note:
Over seas buyers please contact me before purchase with postal code to get a shipping quote. Shipping cost posted is for Domestic shipping only.
Detail photos Click to enlarge