⬅ Return to collection
1900-1940s
This item has been sold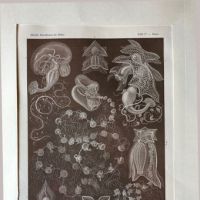 Ernst Heinrich Haeckel Siphonophorae Staatsquallen Tafel 77 Circa 1900 with German Text
Ernst Heinrich Haeckel German lithograph page of Siphonophorae- Staatsquaffen (siphonophores or Jellyfish)

Siphonophorae are an order of the hydrozoans, a class of marine animals belonging to the phylum Cnidaria.


From Kunstformen der Natur (Artistic Forms of Nature)
Tafel 77- Bassia

Year: Circa 1900
Printed in German with original German Text page included.
Size: 10 1/2" x 14"
Condition: fine with crisp images and the page is in very good condition with no marks. The back is hinged with masking tape, please see the images provided.

If you have any questions or if you need additional images, please feel free to email me.


Detail photos Click to enlarge