⬅ Return to collection
Art : 1900-1940s
This item has been sold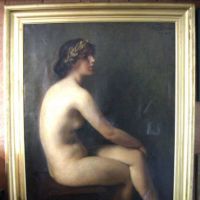 Ernst Karl Eugen Koerner Oil on Canvas Orientalist Painter 1903 Nude Woman
Ernst Karl Eugen Koerner (German 1846-1927) known for his Orientalist style of paintings of Egyptian architecture. His famous Egyptian Landscapes of the ruins of Karnok and the 1887 painting of Excavation of the Sphinx shows his amazing detail and use of color in these majestic landscapes.

This large oil is signed and dated top left corner, 5-9-1903.
The subject of a Roman nude woman with a crown of oil leaves sitting on a wood pedestal

Condition: the painting has approx 7 tears that have been repaired and the canvas is loose on the stretchers. The estate has never had the painting cleaned.

Size:framed 38 1/2 x 50 inches
canvas 32 x 44 inches


The estate acquired this and other painting circa 1930's from a Baltimore Art Broker and Dealer. This and other paintings from this client's collection are up on the site now and include the Alwxander Wyant, Julien Dupre and others that will be coming soon will be George Inness.

If you have any questions or need additional information, please feel free to email me.

NOTE:
If you want a independent conservation report before purchase, please email me. A conservation report is not provided by Sturgis Antiques and payment is the responsibility of the buyer.

Detail photos Click to enlarge