⬅ Return to collection
[uncategorized]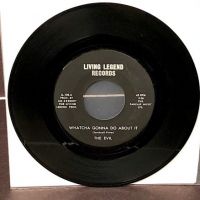 Evil Whatcha Gonna Do About It / Always Runnin' Around on Living Legend Records LL-108 Florida Garage Single
The Evil Whatcha Gonna Do About It / Always Runnin' Around on Living Legend Records LL-108.
"Evil" (not "The Evil") were a Florida garage/psychedelic foursome that earned a regional following playing bills with bands including The Strawberry Alarm Clock. Capitol Records signed them to a recording contract and their only single "Whatcha Gonna Do?" reached number eighty on Billboard."
Their first single, this one was 1967 and the world is a better place for it, what an amazing garage single, heavy loud and distorted guitar with a stomp that would make Junk Shop Glam Bands jealous!
Listen to the Tracks
SIDE 1

SIDE 2

Condition: Vinyl is solid Vg+, sounds great as soon as the needle goes on, a sometimes fait light surface is low below the music. SIDE 1 has small pressing imperfection but does not affect the sound or tracking. SIDE 2 has light surface that can be slightly heard but still low with marks. No tracking issues. Sleeve is Generic White.
If you have any questions or if you need additional images, please feel free to email me.

Note:
shipping cost is for US only, if you are an over seas buyers please email me your shipping address to get a shipping quote.
Detail photos Click to enlarge