⬅ Return to collection
Mid-century
This item has been sold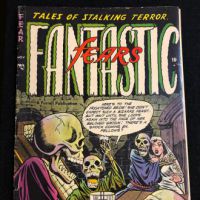 Fantastic Fears #4 1953 Precode Horror Comic Pub. by Robert Farrell Precode Horror Comic
**Sames Estate as the other Pre Code Comics listed**

Title: Fantastic Fears #4
Date: November 1953
Pub by Robert Farrell.

Condition: The cover is in good condition with bold colors and minimal wrinkle. The Staples are loose from the cover, front and back. Inside of front cover has pulls at the staples and small tears. The Binding is tight and the pages are amazing with rich gbold colors. Back cover has some soiling and chipping at the bottom edge. The inside as the front has pulled staples and the cover has small marks at the staples
If you need more image please tell me what areas you need photographed.

""Hissing Horror"; Lawrence Mason lives as a recluse on an island; He spends his days killing the many snakes he encounters all over the place; When Mason finds a beautiful woman by the name of Asptha, he gives her shelter and falls in love with her; But Asptha is the queen of the snakes and lures Mason to his doom. "Race for Valor"; Native American recruit Jimmy Bear fights in Korea; He saves his company with his ability for long-distance running. "Diamonds for the Dead" text story; In Africa, Phil Slater fights a gang of criminals disguised as a safari. "Devil's Sketch Book," pencils by Williams; The gangster Marty Hutton uses a book of magic to dispose of his enemies and rivals; Hutton becomes the new crime czar, but the magic fires back on him. "Black Death"; Pat and Lorna Fuller are on their honeymoon cruise; The ship sinks and the couple is marooned on a tiny island populated by giant black ants; Pat and Lorna fight as long as they can, but are eaten alive in the end. 36 pgs."

If you have any questions or need additional information, please feel free to contact me.

Noted:
Overseas buyers please email me for shipping quote, please provide me with a shipping address and postal code.
Detail photos Click to enlarge