⬅ Return to collection
[uncategorized]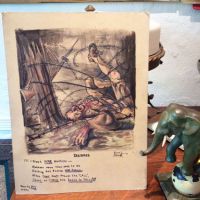 Fantastic Signed and Dated 1942 WWII Art Pen and Ink Debris Social Commentary Art
WWII, one of the most horrific events in the past hundred years. Many families have lost a member of their family to this war. My Grandfather was POW in German for 18 months and lived. Amazing history of people being confused and following a lunatic and how far mass hysteria religious fever can cause people to kill.
This piece, not a piece from their family but bought the piece about 25-30 years ago based on the artist merit. They collected WWI and WWII poster for the bold and striking image and this expressionistic and detail of this period is amazing. I have tried to locate other pieces by this artist, as you can the signature is so stylized that they had to be a draftsmen or artist.
The execution of the art is bold quick and precise. First done in a black Indian Ink, they after added watercolor.

The bottom right is signed and date, Henry Kuntisky 1-4-42
Titled: Debris
Medium: Ink and watercolor on think cardboard

Lower left side has a poem verse which is dated 10-2-42 and is call out to the death families feel from War.

Size:
Condition: Near Fine with minor bumped corners. Very minor soiling and no damage to the art. Please see images for details.

If you have any questions or if you need additional images, please feel free to contact me.

Detail photos Click to enlarge