⬅ Return to collection
1st Edition : Modern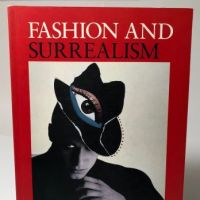 Fashion and Surrealism by Richard Martin 1987 Softcover Edition Published by Rizzoli 1st Edition
Fashion and Surrealism by Richard Martin 1987 Catalogue for the Fasion Institute Exhibition October 30th 1987- January 23 1988 Softcover
Title: Fashion and Surrealism
Catalogue for Fashion Institute and Technology Exhibition October 30 1987- January 23 1988
By: Richard Martin
Year: 1987
Publisher: Rizzoli
Edition: 1st edition Softcover

A large 239 page catalogue of the lines that were blurred between the art movement of Surrealism and Fashion. The time when art was a cultural movement and how it integrated into over disciplines. Surrealism was the stepchild of the Dada Movement which brought theory and cultural ideologies into the fold. Of course before, the post Modernist abandoned the rules and regulations of the academy artists but it wasn't till the Dada movement art was moving into the cultural happenings of the time and used as a weapon against the ruling status quo. Surrealism dove deeper in the field of psychology and artist as a thinking bohemian, becoming more outlandish and mystical and culturally further extreme.
Fashion has always been a sign post to the what was different and new and hip, mocking and abandoning the established norms, but during the time of the surrealist, circa post WWI, fashion icons would align themselves with the movement's titans of the time but would also seek out these artist to co create new and "different" pieces.
Full of Black and White and color images along with drawings and stills, this amazing book dives in but shows how close these two fields worked together.

Size: 9 x 12 inches
Condition: Vg+ with slight signs of shelf wear but over all in slightly below Near Mint. No writing of damage to the book or binding. Please see the images for more details.
If you have any questions or if you need more images please feel free to contact me.
NOTE:
The price listed is for US. If you are an overseas buyer please email me your shipping address before purchase to get a shipping quote.
Detail photos Click to enlarge