⬅ Return to collection
Art : 1900-1940s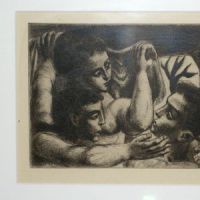 Federico Castellon Signed Etching Titled Acteon and Diana Circa1948 FROM PRENTISS TAYLOR ESTATE
Federico Castellon (September 14, 1914 – July 29, 1971)

Bio:
"Federico Castellón (September 14, 1914 – July 29, 1971) was a Spanish-American painter, sculptor and printmaker. Castellón was born on Alhabia, Almeria, Spain, studied in Madrid and Paris and settled in Brooklyn, New York.
Federico Cristencia de Castellón y Martínez, better known as Federico Castellón, was a surrealist printmaker, illustrator, painter, and sculptor. He was born in Almeria, Spain in 1914. With his family, he immigrated in 1921 to the United States. They resided in Brooklyn, New York. Castellón was introduced to Diego Rivera, who had an international reputation and was painting murals for Rockefeller Center. The older artist took an interest in the young man's work and brought Castellón's drawings to the attention of the director of the Weyhe Gallery in New York, who subsequently gave the eighteen-year-old Castellón his first solo exhibition. In 1934, with Rivera's help, Castellón was awarded a four-year fellowship, sponsored by the Spanish Government, to travel throughout Europe to study painting and printmaking. During this same period, Castellón began to exhibit his work in museums in France and Spain.
In 1935, Castellón participated in the Paris Exhibition of Spanish Artists that included Pablo Picasso, Juan Gris, and Joan Miró.
In 1937, Castellón returned to New York and began experimenting with the medium of lithography, using this medium to create illustrations for Edgar Allan Poe's allegorical tale, "The Masque of Red Death". Over the years, Castellón's work as an illustrator would eventually include Bulfinch's Mythology, The Story of Marco Polo, and The Little Prince.
In 1940, Castellón received the first of two Guggenheim fellowships. His work continued to attract attention as he was included in exhibitions at the Museum of Modern Art, the Whitney Museum of American Art, and the Art Institute of Chicago."


Title: Acteon and Diana
Year: Circa 1948
Edition: No edition Stated
Signed Signed Castellon lower right in Graphite
Size: Framed 9 7/8 in. x 13 in.

*please note, any dirt or glare is from the flash when this piece was being photographed. Any damage will be noted*

NOTE: As stated, this piece is from Prentiss Taylor's Estate.

If you have any questions or need additional information, please feel free to contact me.
Detail photos Click to enlarge