⬅ Return to collection
Art : Culture : Mid-century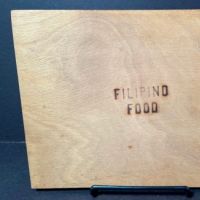 Filipino Food SIGNED/Numbered Edition 231/1000 Ed Badajos 1971 Underground Comix Counterculture Artist for  Molly Barnes Gallery February 15th 1971 
Filipino Food SIGNED/Numbered Edition 231/1000 Ed Badajos 1971 Underground Comix Counterculture Artist for Molly Barnes Gallery February 15th 1971
Ed Badajos
Another piece from this amazing collection and archive. The estate was personal personal friends with the artist, as well as other notable underground comix and figures of the late 1960's LA scene.
This piece unlike the others I have posted is directly linked to the publishing company, Sawyer Press was a working name for a company that syndicated art for artist, like Ed Badajos and Ron Cobb, both figures doing amazing and political satire.
Published by Ed. Badajos for commemoration of Badajos Exhibition at Molly Barnes Gallery in Los Angeles.
Date February 15th 1971
Edition of 1000
SIGNED and NUMBERED 231/100

Filipino Food is one of the main pieces Badajos is known for, an Art piece in Comix form. This was one is 231/ 1000 made for the Gallery show at Molly Barnes Gallery for the exhibit. Also included is an original never altered or hung, 8 x 10 poster printed on heavy stock card.

Filipino Food is the original wood cover, accordion style book with Signed and numbered page, "''This book was published in commemoration of the first Badajos Exhibition held at Molly Barnes Gallery, 631 North La Cienega Blvd. Los Angeles California on February 15th 1971."
Numbered 231/1000
"Ed Badajos (1942-1983), a native of Honolulu, Hawaii, was a Filipino-American cartoonist and illustrator. He was the editorial cartoonist for the Los Angeles Free Press and his work could also be seen in underground publications such as the Berkeley Barb, Oz, and The Staff. His exhibition at the Molly Barnes Gallery consisted of the originals that would appear in Filipino Food."
From my previous Post of Original Badajos Art I have For Sale:
"Ed Badajos…"Born and raised in Honolulu, Hawaiï, Ed Badajos was known primarily for his political cartoons, visual commentaries, and covers. He was the editorial cartoonist for the L.A. Free Press and his work appeared in The Staff and The Berkeley Barb. Badajos gained further exposure through syndication in the underground press of the '60s and '70s.
Condition: Very fine with minimal signs of use or wear. The hinges on the pages are strong with no visible damage inside.
The Poster as stated is in near MINT condition. Please see the images for more details.
SIZE: approx 9 x 11 1/2 inches
If you have any questions or if you need additional images, please feel free to email me.

Note:
shipping cost is for US only, if you are an over seas buyers please email me your shipping address to get a shipping quote.
Detail photos Click to enlarge