⬅ Return to collection
[uncategorized]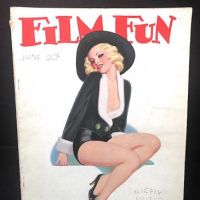 Film Fun June 1934 Magazine Enoch Bolles Painted Pin Up Risque Cover Nicely Suited For Hollywood
What a wild, coy and sometimes overtly sexual magazine using the images of the current films and stars with captions of sexual innuendos.
The magazine ran from July 1915 to September 1942,… "1921 it was running painted covers by the likes of John Held, Jr. (his usual topics), and by 1922 Enoch Bolles was painting for it. Bolles did women in bathing suits and women in skimpy clothes". "From mid-1923, until just before it folded in 1942 (after changing to photographic covers, partly because it was under threat of an obscenity prosecution), Bolles painted almost every cover for this magazine."
This issues from 1934 has one of those famous Enoch Bolles painted covers, "Nicely Suited For Hollywood".
Issue June 1934


Condition: the binding is fine with light signs of use, staples are firmly attached and the front and back cover is also firmly attached. The Front has light and very faint soil from age and storage and the spine edge has light damage at the top and bottom, please see the images for details. Back has light soiling from age and storage. Please see the image images for details.
If you have any questions or if you need more images please feel free to contact me.
NOTE:
The price listed is for US. If you are an overseas buyer please email me your shipping address before purchase to get a shipping quote.
Detail photos Click to enlarge