⬅ Return to collection
Art : Medical & Oddities : 1800s
This item has been sold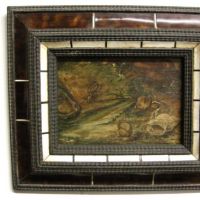 Flemish Style Baroque Still Life Oil on Panel Stag Beetle and Shells in Tortoise Shell Frame
18th Century Flemish Style Baroque Still Life Oil on Panel with Insect and Shells in Tortoise Shell Frame.

The painting is oil on wood panel, in the style of a later period Baroque, Flemish Still life.
The subject is a Stag Beetle with fauna and assorted Shells, a common subject in the Baroque era and associated with Cabinet of Curiosities. This was a name given to the wonders of the natural world that were yet unexplained.
The piece appears to be attributed to this era and most likely done in the late 19th C.

The Frame is a tortoise shell with a faux ivory inserts.

Size: Panel is approx. 6" x 8.25"
Frame is approx. 11.5" x 14"

Condition: Very good, with some areas that appeared to have been filled. A recent varnish appears to be crazing.

If you have any questions or need additional images, please feel free to contact me.


Detail photos Click to enlarge