⬅ Return to collection
Press Photography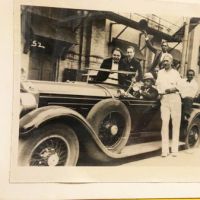 Fletcher Henderson Big Band Orchestra with Will Marion Cook and Harold Arlen Atlantic City 1929
Fletcher Henderson Big Band Orchestra with Will Marion Cook and Harold Arlen Atlantic City 1929 Frank Driggs Photo


Will Marion Cook standing in 1929 at the wheel with Fletcher Henderson Orchestra
Harold Arlen, Piano player and Composer
From the Frank Driggs Collection and states on the back, Stanley Dance Frank Driggs Collection

Another Piece from the Baltimore Jazz Drummer and Music collector, John Brown, this one is Scoville Browne. It is not stated but almost all the images from this collection are images he got from Frank Driggs the RCA Music historian.
I have been working on a Jazz Photo collection from a Baltimore Md Jazz Drummer who passed in the 1970's who was active playing drums in the 1950's and later became a Jazz Concert Promoter in the late 196o's. His name was John Brown.
The image appears to be a reprint from the 1960's, not stated but most likely from the files of Frank Driggs.

Listed on the back:
Harold Arlen
Fletcher Henderson
Bobby Stark
Lois Deppe
Will Marion Cook
Rex Stewart

Dated Atlantic City in 1929

Size: 10 x 14 inches
Condition: Near fine, this a copy from the Frank Drigg Collection and has been dry mounted to board. No damage to the boards or the photo. Please see the photos for a visual description.

If you have any questions or need additional information, please feel free to contact me.

Noted:
Overseas buyers please email me for shipping quote, please provide me with a shipping address and postal code.
Detail photos Click to enlarge