⬅ Return to collection
[uncategorized]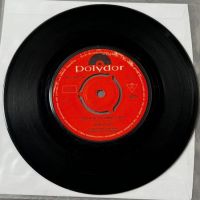 Fleur de Lys Gong With The Luminous Nose b/w Hammer Head on Polydor 1968 Psych UK Band
Fleur de Lys Gong With The Luminous Nose b/w Hammer Head on Polydor 56251 UK Press with 3 pin center.
A UK band that started in 1964, their first single was 1966 and by 1968 with this single, they were all freak beat psych band.
SIDE 1

SIDE 2


Condition: Vinyl is high VG+, faint signs of plays but barely seen. Plays with very light crackle at start, does drop away but sometimes a faint crackle sometimes heard, very faintly. SIDE 2 has very light surface, low but can be heard, no marks, graded at more low VG+. Labels are low VG+, light rubbing on both sides at margin. SIDE 2 has light water mark, very light. Sleeve is generic white.
If you have any questions or if you need additional images, please feel free to email me.

Note:
shipping cost is for US only, if you are an over seas buyers please email me your shipping address to get a shipping quote.
Detail photos Click to enlarge