⬅ Return to collection
Folk Art & Outsider Art : 1900-1940s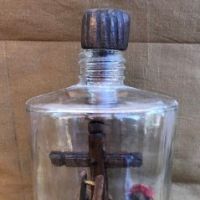 Folk Art Whimsy Crucifix with Carpenter Tools Ladder and Crow in Glass Bottle Circa 1920's
Folk Art Whimsy Crucifix with Carpenter Tools and Bird in Glass Bottle.
The art of the whimsy.."In the late 19th and early 20th centuries, as bottles became an abundant and disposable resource used to package liquor, medicine, food, cleaning products, and more, a subset of folk artists began using these discarded glass containers as stages for their miniature sculptures." Many of these whimsy used the religious subject as the theme and this practice continued well into the 20th century.
The Irony that I find and most likely had a hand in the religious subject matter in whisky bottles is the Temperance movement. This movement would draw the US into a more "moral" high ground which resulted in the US having prohibition, so the religious subject in a whiskey jar was more of in your response to alcohol use and the way to "cure" was through religion.
**Stay Tuned for more Folk Art Pieces from this Estate**
This bottle is circa 1920s-30's, the threaded top shows a more contemporary bottle, the wood top was made during the construction of the whimsy.
Subject: The Crucifix with the tools of the Carpenter, ladder, plane, ax and pliers and a crow with a diamond for it's eye.
The Crow.. "the crow is a reminder of Jesus' death on the cross. The crow is also a symbol for sin or evil in general due to its association with symbols like death. In the Bible, if a crow is crying in a tree, it foretells of either death or a great change in someone's life"
Size: Glass bottle is 7" x 3".
Condition: Very fine with no breaks or damage to the glass. The pieces inside seem secure but I have not taken the bottles apart or opened the bottles.
If you have any questions or if you need additional images, please feel free to contact me.

Note:
This item is glass and is hand made, I take every precaution in packing with security and care but I am not responsible for any damage caused during shipping. If Pick up is an option, please contact me before purchase to arrange.
Over seas buyers please contact me before purchase with postal code to get a shipping quote. Shipping cost posted is for Domestic shipping only.
Detail photos Click to enlarge