⬅ Return to collection
Rare & Unique : 1900-1940s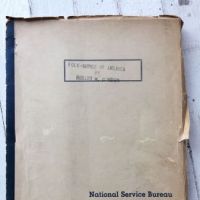 Folk Songs Of America Robert Winslow Gordon Pub. by National Service Bureau Federal Theater Project WPA Era
The time of great change and looking inward, the New Deal which gives us the infrastructure the country greatly needed and helped pull America out of the Great Depression by employing people, from building to the Arts. Alan Lomax is one person who comes to mind but Robert W. Gordon was another who help document the folk music of America. Robert Winslow Gordon (September 2, 1888 – March 26, 1961)
"Gordon was the founding head of the Archive of American Folk Song (later the Archive of Folk Culture, which became part of the American Folklife Center) at the Library of Congress in 1928. He was a pioneer in using mechanical means to document folk musicians, originally using Edison cylinder recordings. He is known among folk singers as the originator of the Gordon "Inferno" Collection of American songs; he also collected an early version of Kumbaya.
From 1943 to 1958, Gordon was a Professor of English at George Washington University. He died March 26, 1961."
Title: Folk Songs Of America Published by National Service Bureau Federal Theater Project Works Progress Administration
Year: 1938 Paper Wrappers
Description: Articles originally published in the New York Times Sunday magazine. Mimeographed pages and stapled from collected published works 1927-1928 The New York Times.
110 pages All the articles have been reprinted here by the Robert Gordon. Please see the opening page for the editorial note by Robert Gordon.
Size: 8 ¾ x 11 ¼ inches
Condition: The front and back paper end boards are chipped but are original. The edges are worn and have a small water stain on the front cover.
Please see images for details

If you have any questions or if you need additional images, please feel free to contact me.
Detail photos Click to enlarge