⬅ Return to collection
1st Edition : Mid-century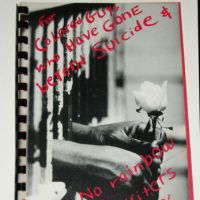 For Colored Guys Who Have Gone Beyond Suicide and Found No Rainbow 1986 1st Ed. Spiral Bound
Title: For Colored Guys Who Have Gone Beyond Suicide and Found No Rainbow
Spiral Bound, first edition, Volume XIV The New Poets Series Inc. Baltimore MD.
Year: 1986
By: James Able, Harrison Bennett, Harry McClelland, John Mingo, Roland Robertson, Baari Shabazz
Published by: MHC Writers Club, Maryland
Edited by: Clarinda Harriss Lott
ISBN: 0932616x

Brief Synopsis: Originally a men's answer to Ntzake Shange's.FOR COLORED GIRLS WHO HAVE CONSIDERED SUICIDE WHEN THE RAINBOW IS ENUF, FOR COLORED GUYS. . .became a plea by a group fo men for greater understanding among themselves and with women.
Detail photos Click to enlarge