⬅ Return to collection
[uncategorized]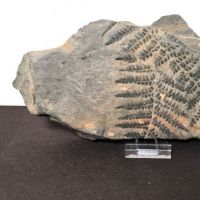 Fossil of Pecopteris Miltoni Common Name COAL FERN Found Butler Coal Mine Pittston PA. Circa 1900
Labeled on the back, "collection of B. F. Phillips, the label states Butler Mine, Pittston, PA."
The mine goes back to the 1800s.
The Mine in PA, Butler Mine like other PA mines, a coal mine. The plants referred to as Coal Ferns were the bases for what would be sediment matter that would make coal, millions of years later.
Background on Coal:
"Coal forests were the vast swathes of wetlands that covered much of the Earth's tropical land areas during the late Carboniferous (Pennsylvanian) and Permian times. As vegetable matter from these forests decayed, enormous deposits of peat accumulated, which later changed into coal."
This specimen, found during the circa early 1900's (estimated by the iron ink on the label) is from approx. 48 Million years ago.
The front with the fossil is in beautiful and vidid detail of the fern. The back has the label of B. F. Phillips.
Size: 9" long
Condition: Very fine with strong details of the fern. No repairs. Please see the images for more details.
If you have any questions or if you need more images please feel free to contact me.
NOTE:
The price listed is for US. If you are an overseas buyer please email me your shipping address before purchase to get a shipping quote.
Detail photos Click to enlarge