⬅ Return to collection
Art : 1900-1940s
This item has been sold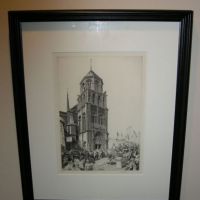 Framed John Taylor Arms 1933 Signed in Pencil Etching Mediaval Pageantry
John Taylor Arms, American 1887- 1953.
A well documented and highly collected Artist, his works have been shown in Galleries and Museums around the world.
His work has been collected in the catalog raisonne by William Dolan Fletcher, "John Taylor Arms A man For All Time" 1982.
This catalog is used in all references about this artist.

Up for sale is a Pencil Signed and numbered etching
Edition of100, stated lower left. Signed lower right John Taylor Arms and by Kerr Eby, printer.
The Title is: Mediaval Pageantry 1933
Size: 12 5/8 x 8 11/16
Framed: 17 3/4 x 22
Reference: Fletcher 270B
Note: the print has work by Eby, the people and the building by Arms
The edition of 100, " in the edition of 100 printed by Eby, 50 for Eby , 50 for Arms: those of Eby for Frederick Keppel & Co. and those of Arms for Kennedy & Co.. After 62 pullings Eby stopped the edition: defaced the plate, rebit the surface in the center f the plate, particularly in the area of the figures, resteeled the surface and finished the Edition with 38 pullings. Since the plate was reworked, this is an additional state.


"One of the most famous printmaker of the early 20th century, he was known for his medieval architectural etchings that combined precise realism with a sense of soaring spirituality. He believed that Gothic architecture was man's greatest achievement, uniting spiritual and aesthetic values, and was best known for his renderings of gargoyles and European churches. He was remarkably prolific, considering that he worked slowly and deliberately and spent much time traveling, writing, and lecturing."

This piece is framed behind glass and there may be reflection from the photographing. Any damage will be noted and documented.
Note:
This piece has been treated by a professional Paper Conservator, J. E. Thompson Art Conservation in San Fransisco.
I have the original treated and condition report for this item.

If you have any questions or need additional information, please feel free to contact me.
Detail photos Click to enlarge