⬅ Return to collection
Art : Historical Memorabilia : 1900-1940s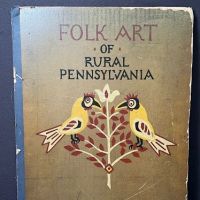 Frances Lichten Folk Art of Rural Pennsylvania Folio with all 15 Serigraphs and Colophon Page In Silkscreen Folio WPA Published
From the Collection of Frances Lichten and illustrated. The publication of her book Folk Art of Rural Pennsylvania is now widely now due to her work and documentation. The book was later published in 1946 in a small format and has remained in print.
This is the original Edition


Original Folio Edition with 15 Serigraphs printed on heavy stock board. The folio is complete with colophon page at the end.
The serigraph, silkscreens have detailed history on the back of image board.
The folio's front is also a silkscreen printed

Size: Sheet are approx. 18 1/4 x 14 1/4 inches
Condition: The folio has chipping at the edges with bumps. The cloth binding on the spine is tattered but intact. Each board has very light bumps and some marks at the edges. Light toning on some of the boards. I have photographed every board to see the condition, please see the images.
If you need more images, please feel free to contact me.

Background and Bio:
Published in 1943 by the WPA, Work Projects Administration, this large folio has 15 serigraphs, silkscreens of Folk Art of Rural Pennsylvania.
The WPA was a federal project, 1935-1943 created to help America move out of the Great Depression. The project focused on Arts, infrastructure and education of all sorts. Government buildings hired arts to decorate in a social realism, bridges and dams were built and music and arts were taught. This teaching brought the world of American into view for all to see. The great Woody Guthrie was hired to write music and document the folk music scene, this is when Woody wrote the American song we know, This Land is Your Land.
Frances Lichten (American, 1889–1961) was a "research Associate in the Decorative Arts department of the Philadelphia Museum of Art from 1955 until her death in 1961. She brought to the Museum her expertise in Pennsylvania German folk art".
"Born in Bellefonte, Pennsylvania in 1889, Frances Lichten developed an early interest in art. At fourteen, she enrolled in the Pennsylvania Museum School of Industrial Art. She studied design and interior decoration, while also developing an interest in landscape painting. She took classes at the Pennsylvania Academy of Fine Arts, and began to travel around the countryside to practice her technique. She worked as a commercial artist after her graduation, and continued in this capacity for nearly ten years."
During the WPA era, .."From 1936 until 1941, she utilized her design skills as the State Supervisor for the "Index of American Design," which sent artists into the field to document the richness and variety of American arts and crafts. Frances Lichten thrived in this position, compiling hundreds of sketches and drawings depicting folk art unique to the Pennsylvania German population."
If you have any questions or need additional information, please feel free to contact me.

Noted:
Overseas buyers please email me for shipping quote, please provide me with a shipping address and postal code.
Detail photos Click to enlarge