⬅ Return to collection
Vintage
This item has been sold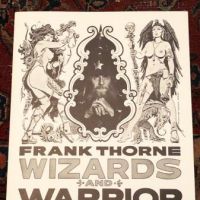 Frank Thorne Wizards and Warrior Women Signed and Numbered Folio with 6 Prints w/ Envelope
Title: Wizards and Warrior Women
A Portfolio of Fantasy Drawings
Artist: Frank Thorne

Folio with 6 Prints with the Plate One signed in pencil and numbered 511/1000 in the Printed Over Envelope

Year: 1978
Published by Schanes & Schanes, San Diego California

Wizards and Warrior Women, A Portfolio of Fantasy Drawings was published in 1978 and contained six plates illustrated by comic book artist Frank Thorne. Each plate featured a fantasy scene of several semi-clad barbarian women who all bear an uncanny resemblance to Marvel Comics' popular Red Sonja, and a wizard who looks a great deal like the artist himself.

Size: Envelope is approx. 15 1/2 x 11 7/8
Folio is 15 1/4 x 11 1/4
Each Print is approx 11 x 15 inches

Condition: Very Fine with writing on the flap on the envelop, the folio and the prints are in excellent with no signs of use or damage. Please see the images provided for a visual description.

If you have any questions or if you need additional images, please feel free to email me.

Note:
shipping cost is for US only, if you are an over seas buyers please email me your shipping address to get a shipping quote.
Detail photos Click to enlarge