⬅ Return to collection
Punk : 1970-Contemporary
This item has been sold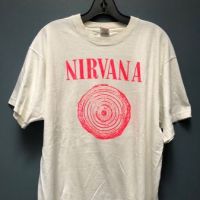 From The Collection of Naomi Petersen Famed SST Photographer Original Nirvana Shirt Given to Her by Dave Grohl Sub Pop
Original Nirvana Tour Shirt Fudge Packin Crack Smokin Satan Worshipn Motherfuckers Xl Fruit of The Loom Shirt
ON HOLD
This original tour shirt was given to Naomi Petersen by Dave Grohl. Naomi was very close and personal friends with Dave through her friendship since his involvement in Scream, the DC hardcore band. Chris Petersen, Naomi's brother was very nice in giving me two images showing her friendship with Dave. One is a picture with Scream, the person used Naomi's camera to take the shot and the other image is a picture Naomi took of Dave. There are so many photos she took of Dave and Scream.
When Dave joined Nirvana, in 1990 Naomi was of course there to support her friend which she often did.
Along with other items I have posted from Naomi Petersen collection, this is another item she got directly from the band.
When you get this shirt, it will include a letter from Chris Petersen stating what these items are and that they come from her collection which he has taken over. Each sale will support the project which already has taken years to catalogue and preserve, the letter states…"Over her lifetime, my sister took over 40,000 photos".
The shirt is original and is amazing, looks like she only wore the shirt a few times, it is slightly gray, I guess she did not separate her colors when she washed her clothes.
Size: Stated on the page a XL, 100% cotton shirt on Fruit of The Loom
Condition: slightly worn, a small pinhole on the front of the shirt and small cracks in the ink when you view it up close. I have included images but please feel free to contact me for more images.
If you have any question or need additional images, please feel free to contact me.
NOTE:
International orders. Shipping will be $26. Please contact me before purchase if you are an International buyer. I will need to adjust the shipping price to reflect a correct shipping cost to you.
Detail photos Click to enlarge