⬅ Return to collection
Antique Accessories : Folk Art & Outsider Art : Historical Memorabilia : 1800s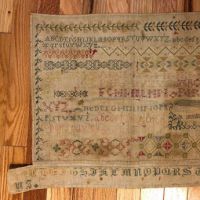 From An Estate From Boston Mass. Reed Hunt Family Mid 1800's Sampler
From the same client who had the John Adam Whipple Full Plate Dageurrotype has brought me this mid 1800's, possibility earlier sampler.
The Family was Reed and Hunt and listed in the Boston area.
The Sampler is unsigned but a fine example and an array of designs, boards and letters. Full Alphabets mixed with decorative boarders and even an added piece of the full alphabet at the bottom. As you can see the fabric is the same in construction and was stitched on but the wear and aging is consistent with the sampler.

I have photographed the front and back of the sampler to give you a visual description.


Size: 21" x 17"
Condition: fine with some areas of soiling, very minor but still noticeable. Please see the images for details.

If you have any questions or if you need additional images, please feel free to email me.


Detail photos Click to enlarge