⬅ Return to collection
Press Photography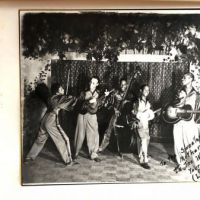 From Frank Driggs Collection Cats & Fiddle Press Photo Circa 1939 Early Press Photo
Cats & Fiddle, singing group which formed in 1937 in Chicago and lasted until 1951, releasing more than 30 songs
A Great Shot of them clowning around, The right side says "To The Sweetest Mother In The World Your Son (LaVert


This photo and others of early Jazz and big band era all come from the same client's collection, John Brown.
He was a drummer and also a Baltimore Jazz concert promoter.
Many of these images he got from his person friend, Frank Driggs of Columbia Records.

This photo and others I have, mostly came from Frank Driggs and where copied from his person and Columbia Archive. This Photographic copy of the original press photograph is dry mounted on cardboard with the a xerox of the name taped on the back of the board.
Please see the images for a visual description.

Size: 8 x 10 1/8 inches
10 1/2 x 14 1/8 inches board
Condition: fine, the photo has been dry mounted on board.

If you have any questions or if you need additional images, please feel free to contact me.
Detail photos Click to enlarge