⬅ Return to collection
Art : Mid Century Design : 1900-1940s : Mid-century
This item has been sold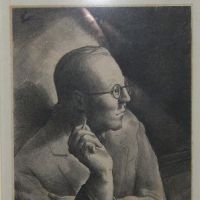 John Wheeler Locke Signed Lithograph 1938 Edition of 40 From Prentiss Taylor Estate
Prentiss Taylor (1907 – October 7, 1991), the artist whose life and art reflected social political subjects as well as artistic prowess in the fields of Printmaking, watercolors and paintings.
He is considered be one of the major non African American figures to be involved with the Harlem Renaissance, his art of this period was reflective of the struggles of the movement. Many subjects of his etchings were mirrors of the hatred and struggles as well as the excitement of this hugely influential African American Art Movement of the early 20th C.
During his years in the arts, his friendships to fellow artist helped push his creativity and also helped him to pursue new mediums and ideas in his art.

Sturgis Antiques is very happy and proud to have the honor of showing and selling not only lithographs of Prentiss Taylor but also many other artist that were a part of his art circles, with many contemporaries that not only shared his views of life and art but who were also his mentors that helped push his art to the level and heights he is noted for.

John Wheeler Locke (Cincinnati, 1899 - Garrison, New York, 1983)

"Charles Wheeler Locke: One of America's leading artists of the first half of the twentieth century, Charles Wheeler Locke first studied art in his native Cincinnati at the Mechanics Ohio Institute. In 1921 he became a student at the Art Students League, New York, and studied under John Weis, H. H. Wessel and Joseph Pennell. Pennell (the disciple and biographer of Whistler) was the leading force of American printmaking at this time. He quickly recognized Locke's talents (particularly in the medium of lithography) and hired him as his primary assistant. In 1923 Pennell selected Locke to succeed him as Instructor of Lithography at the Art Students League.
From 1925, Charles Locke's lithographs of the docks,, wharves and streets of New York and Brooklyn gained international recognition. His role as a teacher was also important. Among other accomplishments, Locke introduced John Stewart Curry to lithography and helped to influence his early work." (from the site Art of the Print)

Title: Portrait of Banker
Year: 1938
Edition: edition of 40
Signed Lower right in Graphite
Size: Framed
Artist tag on the back of frame.
*please note, any dirt or glare is from the flash when this piece was being photographed. Any damage will be noted*

NOTE: As stated, this piece is from Prentiss Taylor's Estate.

If you have any questions or need additional information, please feel free to contact me.
Detail photos Click to enlarge