⬅ Return to collection
Art : Lithographs : 1900-1940s
This item has been sold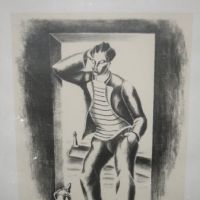 FROM THE ESTATE OF Prentiss Taylor Jane Belo Signed and Numbered 1924 Lithograph
Prentiss Taylor (1907 – October 7, 1991), the artist whose life and art reflected social political subjects as well as personal philosophical beliefs.
Considered one of the major non African American figures to be involved with the Harlem Renaissance, his art of this period was reflective of the struggles of the movement. Many subjects of his etchings were mirrors of the hatred and struggles as well as the excitement of this hugely influential African American Art Movement of the early 20th C.
His art after this period became reflective of his personal aesthetic and philosophical views.
Taylor moved to Washington DC where he taught at American University. Many of his pieces are in the Corcoran Gallery and the Smithsonian Institution as well as private and other major institutions.

Sturgis Antiques is very happy and proud to have the honor of showing and selling not only lithographs of Prentiss Taylor but also many other artist that were a part of his art circles, with many contemporaries that not only shared his views of life and art but who were also his mentors that helped push his art to the level and heights he is noted for.

From the Archive and Collection of Prentiss Taylor

NOTE: The lithograph has been photographed behind glass, any spots are from Photography not the image.


Item: Jane Belo 1924 Lithograph of a Man in a Doorway with Dog
Signed and dated by Jane Belo lower right
Numbered on lower left, 21/25

Jane Belo, (1904-1968) a amazing career and woman, not only an artist, but later becomes an anthropologist and musicologist. Her marriages to such pivotal men that in many ways were her partners in her interest were, first George Biddle (New York Muralist), second to Colin McPhee ( Bali Musicologist) and Frank Tannenbaum ( also a Musicologist).
She has been credited with helping Prentiss Taylor start his long and lasting Art Career.
This piece is dated 1924 which would put her in the Caribbean at this time and could very well be her first huband, George Biddle.
The back of the piece has no information.
The frame is original to the art and has been hanging in The Prentriss Taylor Estate.

If you have any questions or need additional information, please feel free to email me.


Detail photos Click to enlarge