⬅ Return to collection
Toys : Mid-century
This item has been sold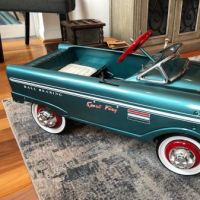 Fully Restored Murray Pedal Car Sports Furry with Ball Bearings 1960s Amazing Condition
Fully Restored Murray Pedal Car Sports Furry with Ball Bearings 1960s Amazing Condition
The Murray Pedal Car was THE toy for kids in the 50s-70s, they made every type of toy a kid wanted, space ship, farm truck, fire engine, police car and of course the current cars of the day.
The Sports Furry by Plymouth was one such car. Starting in the the 1950's the Furry was the beginning of the muscle car and Dodge/ Plymouth was at the front with the 318 and 440 engine. So why wouldn't a kid want to have and pretend they had one of these fancy chromed out and fast cars. The Pedal Car was a way for kids to pretend, pretend to be a grown up and have the freedom that a car gave you.
The pedal car by Murray, a 1960's model the Sports Furry.
The car is fully restored, included in the posting is the replacement parts the client had the restorer use and they are all pieces original to the pedal car.
The restoration is amazing and is done to how the car would have looked when it was brand new.

Size: 35 long x 14 1/2 wide x 15 tall
Condition: very fine with all professional restoration done and documented. There are small marks to the edges, please see the images of the damage. The client said it was done when they moved and was sadly done by bad shipping. Also the electric is done but the battery was damaged in transport and can be fixed. Please see the images of the pedal car and see how next to perfect it is.
If you have any questions or need additional information, please feel free to contact me.

Note:
Due to the size, this will need special packing and or can be picked up in Baltimore. Please let me know what you may need before purchase.
Due to the size, this item may not be able to ship overseas, please email me before purchase.
Detail photos Click to enlarge