⬅ Return to collection
[uncategorized]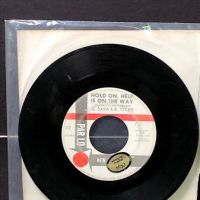 G. Davis & R. Tyler / G. Davis Hold On, Help Is On The Way on Par Lo – 102 with Weldon McDougal Sticker New Orleans Soul
G. Davis & R. Tyler / G. Davis – Hold On, Help Is On The Way / Bet You're Surprised on Par Lo – 102 with Weldon McDougal sticker on label.
This great New Orleans soul single, one side by George Davis with Alvin Tyler on SIDE 1 and Side 2 with George Davis Composition.
Both men were figures on the New Orleans scene, Davis a guitar, bass and saxaphone worked with most the of the biggest name in music from New Orleans. Alvin Tyler Best known for his work as a session musician and arranger on a vast number of New Orleans R&B hits of the 1950s. Among others, Tyler worked with Fats Domino, Little Richard, Lee Dorsey, and Aaron Neville.
This single, both instrumentals were released on Par Lo, an American soul record label founded by George Davis, Alvin Tyler and Warren Parker and based in New Orleans, Louisiana. The label was short lived but put out singles by Aaron Neville.
The record on SIDE 1 has a sticker and Weldon McDougal, Weldon Worked for Chips Distribution in 1964 and would join Motown in 1967, a year after this single was released.
Listen to the the tracks here:
SIDE 1

SIDE 2

Condition: Vinyl is VG, SIDE 1 has slight surface and crackle with light marks, no tracking issues and still life, great tones and surface is low and not distracting. SIDE 2 Label has rubbing and light wear BUT has Weldon McDougal of Chips sticker on label.
If you have any question or need additional images, please feel free to contact me.
NOTE:
International orders. Shipping will be $18. Please contact me before purchase if you are an International buyer. I will need to adjust the shipping price to reflect a correct shipping cost to you.
Detail photos Click to enlarge