⬅ Return to collection
[uncategorized]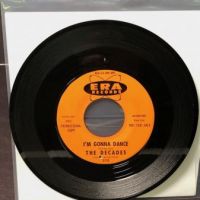 Garage Single by The Decades I'm Gonna Dance b/w On Sunset on ERA Records 3174 Promo California Band
The Decades I'm Gonna Dance / On Sunset on ERA Records – 3174 Promo

The Decades were a California band with one record on two labels, this one on Era and the other label Lady Luck, a LA label with only three releases. The second label was Era which was a larger LA label, starting in 1955 with two partners. The company split in 1959 with Herbert Newman taking full control of the label. By 1970, K-tel bought the label and was absorbed.
The two songs on this single are heavy fuzz guitar with the fast paced drumming, verging on a garage surf style of song minus the reverb. The added Flute to the I'm Gonna Dance is pretty great.
I really love the b side, On Sunset, a spooky voodoo song with great surf guitar.


Take a listen to the tracks
SIDE 1

SIDE 2



Condition: Vinyl is solid VG+, has slight use, loud and very clean. Slight surface at the end of song as fades. SIDE 2 is solid Vg+, has faint crackle very low and faint in spots and light distortion at high ends but a fantastic sound still. No tracking issues on either side and visual the record is high Vg+. Sleeve is generic white.
If you have any questions or if you need additional images, please feel free to email me.

Note:
shipping cost is for US only, if you are an over seas buyers please email me your shipping address to get a shipping quote.
Detail photos Click to enlarge