⬅ Return to collection
[uncategorized]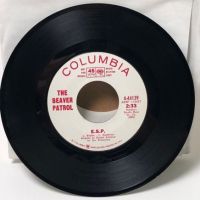 Garage Single The Beaver Patrol E.S.P. on Columbia 4-44139 Rare White Label Promo 1967
The Beaver Patrol E.S.P. b/w Just Like A Lady on Columbia – 4-44139
White Label Promo
The Beaver Patrol was from Hollywood Fla. with only one single. This heavy fuzz garage nugget on SIDE 1, E.S.P., with all the parts, fuzz guitar, maracas and a great freak beat. Side 2 is a Kinks pop song, with just enough flavor to keep it interesting. Columbia hedging it's bets on the single. The SIDE 1, is a garage classic.
Listen To Tracks:
SIDE 1

SIDE 2

Vinyl is high Vg+, sounds amazing with a slight crackle at start but no heard when music starts. Both sides are perfect VG+, no tracking issues and record has only a few plays. Generic Sleeve as issued.
If you have any questions or if you need additional images please feel free to contact me.
NOTE:
International orders, please email me your shipping address before purchase with your address to get a shipping quote. The shipping price is for US buyers only.
Detail photos Click to enlarge