⬅ Return to collection
[uncategorized]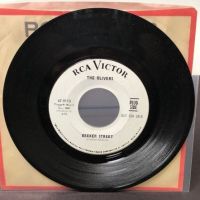 Garage Single White Label Promo w/ Original RCA Sleeve The Olivers Beeker Street / I Saw What You Did on RCA Victor 47-9113
The Olivers – Beeker Street / I Saw What You Did on RCA Victor 47-9113. White Label Promo with original RCA Sleeve.
The Olivers were an amazing fuzzed guitar Garage band from Fort Wayne, Indiana. They had only one single and later issued "lost" recordings but this single holds up as one of their best two songs. The Beeker Street is a fuzzed and distorted guitar with some great screaming vocals. Bside is not as raunchy guitar driven but still an amazing garage cut with some great hooks.
Condition: Vinyl is high Vg+, plays amazing and sounds!! Wow, sounds very clean. SIDE 2 is equal to side 1, plays great and sounds amazing. No Tracking issues on either side. Sleeve is high Vg+, original sleeve with light wrinkle to the one side and a few pencil marks on other side. Pleases see the images for more details.
Listen to the tracks here:
SIDE 1

SIDE 2

If you have any question or need additional images, please feel free to contact me.
NOTE:
International orders. Shipping will be $18. Please contact me before purchase if you are an International buyer. I will need to adjust the shipping price to reflect a correct shipping cost to you.
Detail photos Click to enlarge