⬅ Return to collection
[uncategorized]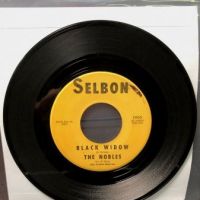 Garage Surf Band The Nobles Black Widow b/w Jaguar on Selbon Records 1963
The Nobles Black Widow on Selbon – 1005

The Nobles were a great Garage Surf band. With tracks like Black Widow and Jaguar, how could they not be good and well, they are a great garage surf band with fast drum rolls and great reverb out guitar. The label is Selbon which is the bands name spelled backwards.
Great single on both sides
Listen Here
SIDE 1

SIDE 2

Condition: Vinyl is low Vg+, sound wise plays at low Vg+ with a faint and light and sometimes heard crack or surface, very low in the music. Visual marks can be seen but no tracking issues. SIDE 2 has light surface towards end. Sleeve is generic white.
If you have any questions or if you need additional images, please feel free to email me.

Note:
shipping cost is for US only, if you are an over seas buyers please email me your shipping address to get a shipping quote.
Detail photos Click to enlarge