⬅ Return to collection
Limited : Vintage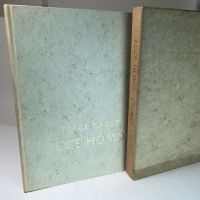 George Grosz Ecce Homo 1965 Ed. Limited to 1000 Oversized Hardback with Slipcase
George Grosz Ecce Homo 1965 Ed. Limited to 1000 Oversized Hardback with Slipcase Pub by Jack Brussel 1965
George Grosz Ecce Homo

Publisher: Jack Brussel, New York
Year: 1965.
Size: approx 10 1/2" x 14 1/2" tall
Condition: Near Fine with original imitation gilt-lettered parchment
Beautiful B & W and Full color Illustrations, including the plates which were destroyed by the German authorities.
Attributions: One of 1,000 copies in Slip Case

Bio:
"George Grosz (1893-1958) was a painter and a caricaturist. He was born in Berlin, Germany, and trained in Dresden (1909-11), Berlin (1911), and Paris (1913), and he came to the United States in 1932 and settled here the following year. Grosz's caricatures began to be printed as early as 1910. In 1918 he joined the Berlin Dada group and during the next decade illustrated magazines and designed sets for the theater. His mordant comments on German society, as in the Ecce Homo series (1922), created problems with the government and ultimately caused him to leave the country."Behold Man" (Ecce Homo) was published in 1923 and was immediately confiscated since it was seen as a slanderous attack on society and the German army, which prosecuted Grosz, won the suit and confiscated the plates. In 1925 Grosz was forced to leave Germany for his personal attacks on Hitler and he was labelled a "degenerate" by the Nazis."

If you have any questions or if you need additional images, please feel free to contact me.

Note:
shipping cost is for US only, if you are an over seas buyers please email me your shipping address to get a shipping quote.
Detail photos Click to enlarge