⬅ Return to collection
Stereoviews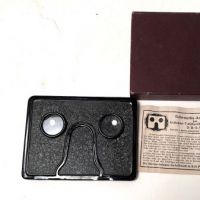 German Stereo Indupor Folding Stereo 3D Viewer Circa 1920s Stereoscope with Box
FOLDING STEREOSCOPE SIGNED ON THE BOTTOM "MADE IN GERMANY, STEREO INDUPOR G.MDN FRANKFURT D.R.G.M. MADE IN GERMANY".THE VIEWER MEASURES JUST 5" x 3 5/8" x 1/4" WHEN CLOSED.
The original box, a dark maroon colored slipcase cardboard box.
Also included are two original stereo photos, please see the images for details.
From a collector's site and resource page for these stereo viewers:
"INDUPOR (1st model) Pocket stereoscope made of metal, collapsible, matt black finish, for paper images 9 x 12 cm, with finely ground optical lenses. By means of springs, the viewer jumps into the position of use at the touch of a finger. Manufactured from 1920 by STEREO-INDUPOR-GESELLSCHAFT m.b.H. Frankfurt a. Main. The viewer then cost 2.50 Reichsmark."
Please see the photo of the mark on the viewer.
Also included is the original instruction page, printed in German.
Condition: The viewer is in very fine condition, the spring is still tight and pops open quickly. The latch device holding it closed is a little precarious and will not clamp tight quickly but will with some finesse. The slip case box is fine with some signs of use and storage marks. Please see the images for more details.
Detail photos Click to enlarge