⬅ Return to collection
Vintage
This item has been sold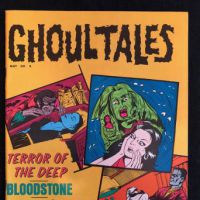 Ghoul Tales #4 Horror Comic Published by Stanley Publications Only 5 Issues
** Same Estate as the other Horror Comics**

Title: Ghoul Tales #4
Date: May 1971
Published by Stanley Publications
Condition: The cover is near mint with no marks on the cover and the binding is tight. Back cover is near mint . If you need more image please tell me what areas you need photographed.

Size: 8 1/2-in. x 11-in., 48 pages

A magazine anthology featuring tales of horror from Stanley Morse Publications. The truth is revealed about why a certain gem is called a "bloodstone." A former employee takes holiday-themed revenge on the businessmen who framed him. A man who loves to eat finally pushes his wife too far. Dream!; Medusa's Head; The Bloodstone!; Death Takes a Holiday!; The Other World; Cremation; The Way to a Man's Heart; The Gossips!; Terror of the Deep.

If you have any questions or need additional information, please feel free to contact me.

Noted:
Overseas buyers please email me for shipping quote, please provide me with a shipping address and postal code.
Detail photos Click to enlarge