⬅ Return to collection
Mid-century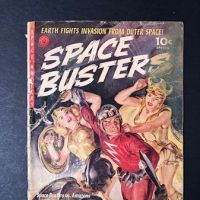 Golden Age Sci Fi  Space Buster No 1 1952 Published by Ziff Davis Norman Saunders Cover Painting
Space Buster No. 1 1952 Published by Ziff Davis.
"Beautiful Norman Saunders painted cover plus 3 pages of Krigstein interior art. Empress of Belzar, pencils by Bernie Krigstein; Commander Senstral betrays his troops to the Belzaric Queen. Charge of the Battle Women; Capt. Crockett persuades one of their captors to release the platoon and join them on Earth. The Man Who Invented Today text story. Death Rite of the Dwarfs; When nurse Wing is captured by the dwarf troops of Belzar, Capt. Crockett joins with Martian partisans to prevent her sacrifice to the dwarfs' god, Wardo. Voyage to the Moon; The Baltimore Gun Club initiates a voyage to the Moon; Adapted from Jules Verne's De la terre à la lune (1865) and Autour de la lune (1870). Taru the Terrible; Synopsis:When their spaceship loses power, Cliff and his fiancé Fira land on Venus, "three thousand years behind the other planets." World's Largest Camera; article about the reflecting telescope at the Palomar Observatory in California. 36 pgs. $0.10. Cover price"
Condition: Cover has top right fade and water marks with chipped spine edge. Cover is attached but very loose. Bottom left has tear on cover and lower left corner has chip. Corners are bumped and worn. Fist page has tear on lower edge. Inside pages have strong color with no writing inside. Binding is attached but loose and shows signs of wear.
If you have any questions or if you need additional images, please feel free to contact me.
Note:
Over seas buyers please contact me before purchase with postal code to get a shipping quote. Shipping cost posted is for Domestic shipping only.
Detail photos Click to enlarge