⬅ Return to collection
Cabinet Cards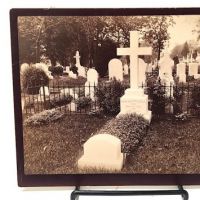 Graveyard Photograph by James F. Hughes Baltimore of Issac Nevett Steele Famous Baltimore Lawyer and Diplomat Circa 1900
A image by Baltimore Photographer James F. Hughes, who.."The Hughes Company was a commercial photography studio in Baltimore, Maryland which made photographs for corporations, the government, and private individuals. The company was founded by James F. Hughes (died circa 1903), who was first listed as a photographer in the Baltimore directory in 1877. In 1889, Hughes advertised his services as a "practical photographer" in the Daily News and operated from quarters at 1414 Patterson Avenue. Many of the company's photographs were made with an 8 x 10 inch view camera."
Stamped on the back with James F. Hughes Photos Baltimore MD is a 8 x 10 image mounted on board, making this one of the photographer's later produced pieces.
The image is of the grave of the famous Baltimore Diplomat and Lawyer Issac Nevett Steele. Steele (April 25, 1809 – April 11, 1891) was "universally recognized for years as the leader of the Maryland Bar." Steele was a diplomat in Venezuela from 1849-1853.
"Upon his return to the United States in 1853, he resumed his legal practice and was involved in nearly all of the most prominent cases before the Maryland courts with his name appearing more frequently in the pages of Maryland reports than any other lawyer of his time." Steele was noted for "the clearness of his statements, the strength and force of his logic and his power as a cross-examiner" and appeared before the Supreme Court of the United States. From 1872 to 1874, he served as the attorney of Baltimore City. Steele was one of the charter members of the Maryland Club (founded in 1857), and served as one of its first governors. He was also a member of the Maryland Historical Society."
The image was most likely commissioned by Maryland Club or close family member of the Steele family.
The image has very crisp details, attributed to the photographers 8 x 10 glass plate camera and is in over all remarkable condition, photograph and board.

Size: board is 8 x 10 and image is 9 1/4 x 7
Condition: Very fine, no damage to the image. The board has slight bumps to the edges. Please see the images for details.
NOTE:
Shipping price is for US buyers only, International orders please email your shipping address before purchase for a shipping quote.
Detail photos Click to enlarge