⬅ Return to collection
Antique Accessories : 1900-1940s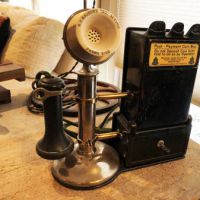 Gray Pay Station with Sampson Transmitter and Porcelain Advertising Taxi Mouth Piece c. 1915
Gray Pay Station with Sampson Transmitter on Candle Stick Phone and RARE porcelain Advertising Mouth Piece for Taxi, R. F. Bauder's Taxi Service Phone 2109

Year: Circa 1915
This functioning Gray pay Station, the bells work and the locks have been restored. The phone needs new wiring but no cracks on the ear receiver, the rubber has shrunk slightly, paper has added to stop the cover from falling off. The phone is chrome and is stunning with the brass fittings and next to the black Gray Station.
A rare piece of Telephone history.

Size:
Condition: 12 1/2" x 4" deep x 12" tall

History:
"Making a secure and reliable pay phone turned out to be tough to do, and in 1889 William Gray got a patent for an innovative coin payment mechanism he was able to defend for decades. Gray distributed its pay stations through other companies including Western Electric, ultimately selling out to Automatic Electric."
Detail photos Click to enlarge