⬅ Return to collection
Art : Mid-century
This item has been sold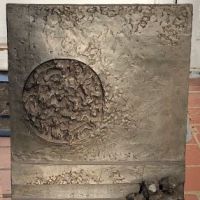 Greek Artist Aristotle Solounias Resin Cast Sculpture Circa 1971 Sculptural Relief Allegorical Title The Heavens Love- The Earth Rejoices
Aristotle Solounias born in 1939 in Athens, Greece. He studied Fine Arts at Cornell University and received his Bachelor of Fine Arts Degree in 1962 and Master of Fine Arts Degree in 1964. Between 1962 and 1964 he was Assistant to the Director of the Andrew Dickson White Museum of Art. In 1965 he became Director of Graphic Arts at The Brooklyn Museum of Art, New York. 1971, Aristotle Solounias was commissioned to create a sculptural relief in bronze for the National Railroad Building in Athens, Greece. In 1972 Solounias founded the Pythagorean Academy of Art on the Island of Samos, Greece, in cooperation with the Boston Academy of Art.
In this piece, based on the titles, shows the a variation of the creation myth. The two figure on the bottom, a Adam and Eve type figures and the disc or a ball of humans at the top left, being created or an alluded to.
Like is paintings, his art is has a positive side to the darkness, or the artist could be allowing the viewer to see safety or "light" in the darkness as most people do in times of trouble or strife.
The monumental Art Deco style, a lot of times using allegory and myths in their public sculptures, leans to this style. A great piece by this Greek artist of the mid 20th Century.
This striking resin plaque, titled on the back with label and artist name, the front the plaque is signed in the cast.
Title: The Heavens Love- The Earth Rejoices
Material: Resin
Note: label states Cast Iron, this could very well have been the cast from the the 1971 commissioned relief from the entrance of the O.S.E. Railroad building in Athens Greece.
Size: 16 x 29 inches
Condition: Very fine, no damage to the resin or the art. Even patina and no chips or lost to the art. Please see the images for details.
If you have any questions or if you need additional images, please feel free to email me.

Note:
shipping cost is for US only, if you are an over seas buyers please email me your shipping address to get a shipping quote.


Detail photos Click to enlarge