⬅ Return to collection
Cyanotypes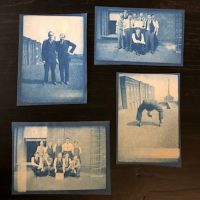 Group of Cyanotype Snapshots Factory Workers Goofing Around Man Bending Over SS Whiting Division Circa 1940s
Group of Cyanotype Snapshots Factory Workers Goofing Around Man Bending Over Circa 1940s
A Group of Cyanotypes of factory workers taking a break to goof around on the roof.
The photos are a Cyanotype process, and judging by their dress they are most likely blue print makers. Blue Prints at that time used a cyanotype process, hence the name "Blue Print".
"Cyanotype is a photographic printing process that produces a cyan-blue print. Engineers used the process well into the 20th century as a simple and low-cost process to produce copies of drawings, referred to as blueprints. The process uses two chemicals: ferric ammonium citrate and potassium ferricyanide."
In two of the photos, the group are holding a sign and in one of the photos you can make out "SS Whiting Division applied 1941". As you can see in two of the photos, the group are on the roof of the building. The great image of the man bending over with his head between his legs. What a moment of fun captured on film and one that many photo collectors look for, a great moment in time.
The last photo is a great and endearing snapshot of two friends posing for the camera.
I am not aware of the location of the factory.

Year: Circa 1941
Size: 2 1/2 x 3 1/2 inches
Condition: All four photos are in very good condition, the man bending over has a slight fade to the blue and the group photo of the man holding the sign on the roof is also slightly faded blue. The other two are very blue and very clear.
Please see the photos for more details.
If you have any questions or if you need additional images, please feel free to contact me.
NOTE:
If you are International buyer, please email before purchase with your mailing address to get a shipping quote.
Detail photos Click to enlarge