⬅ Return to collection
Ambrotype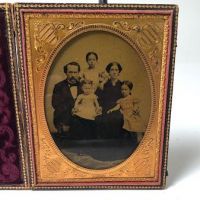 Half Plate Size Case Image By Pollock Ambrotype of Family with Note of Family's Names James Rogers Circa 1855 Baltimore
Half Plate Ambrotype by Baltimore Daguerreotype and Ambrotype Photographer Henry Pollock Family is James Rogers and Family Circa 1855
Half Plate Ambrotype by Henry Pollock, prominent Baltimore photographer from 1849-1889. According to resources and directories, Pollock was active starting in 1849: 147 Lexington (1849); 155 Baltimore (1850-1867); 44 Lexington (1868-1886); 9 E. Lexington 1887-1889).
His ad in 1850:
"DAGUERREOTYPES--BALTIMORE ST., next door to Calvert-- The most central location, and largest light in Baltimore-- one of the best, full sized Cameras in the world-- the most conveniently arranged and elegantly furnished rooms, with a private dressing apartment for ladies, in charge of one of their own sex-- to say nothing of the superiority of the PICTURES produced-- must soon place this establishment far ahead of all others in public favor and patronage. TS, January 11, 1850."
The Ambrotype boom was circa 1855-1868, the process came quickly on the heels of the Daguerrotype which was a little earlier. Many good Daguerreotype photographer were able to transition to the Ambrotype, their cameras were the same, it was just the plates and the developing process changed. You can see many daguerreotypes with great and precise clarity in the image, this was due to the fine quality of the lens the daguerreotypes needed and Pollock being a very early photographer in Baltimore had both quality and large scale cameras able to accommodate large plate sizes.
The Half Plate was amazing and they were very expensive to make. The case image case has a very decorative brass mat and the at the bottom of the mat is the name "Pollock".
The family is labeled on an index card and dating from the package when my client got the image, 1972, the card is from that time period.
The card states: James Rogers and Wife Mary (May) Miller, Ella Rogers (Easter) Mary Rogers (Holmes) and Alice Rogers ( ?). These details lead to that the fact the family owner of the image documented these people.
Searching on the web, James C Rogers 1828-1883, Born in Baltimore in 1828 a dn Ella Rogers (Easter), Born in Baltimore on March 1853 and died in 1930.
My client was researching Baltimore Photographers in the 1970's and bought and stored this image in its original mailer, dated 1972. Please see the images.
Size: Half Plate 4.25 x 5.5 inches
Condition: Very fine with slight dots on the image, image is not worn. The mat is in remarkable condition, the lid is unhinged off the case and the inside velvet is in very good condition.
If you have any questions or need more images, please feel free to email me.
NOTE:
The price listed is for US. If you are an overseas buyer please email me your shipping address before purchase to get a shipping quote.
Detail photos Click to enlarge