⬅ Return to collection
[uncategorized]
This item has been sold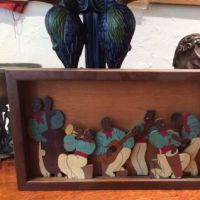 Hand Painted Wooden Calypso Musicians Playing Diorama Circa 1930's
The Art Deco era has given the US market and artistic movement a wealth of inspiration. The movement opened the doors of the US to travel and a new sense of adventure. The music of era was jazz, with its up beat and kinetic sounds gave rise to dance and excitement. At the same time, travel to new areas gave people the exposure to new sounds, the Caribbean offered sand, weather and the sounds of Calypso. This style of music became one of the popular sounds of the day.

Here is a piece that shows the excitement of times. The figures are typical of the era, showing the Caribbean musicians having a good time and excited to be performing.

The figures are set into a shadow box and the box is a later addition to the diorama. The Figures are old, cut out and hand painted with bright colors.

Size: box size 9 1/4" x 15" x 1 1/2"
figures 5 1/2" tall
Condition: Near Fine, with some of the painting showing age. Colors are bold and strong. Please see images for details.

NOTE:
This is an on going estate, please inquire about this piece of any pieces you see.


Detail photos Click to enlarge