⬅ Return to collection
2nd Edition : 1900-1940s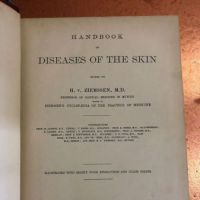 Handbook of Diseases of The Skin by H. Ziemssen 1185 Hdbk with 80 Wood Engravings William Wood
Title: Handbook of Diseases of The Skin
Hardback edition with printed cover of "Presented With the Compliments of The Publishers"

Edited by H. V. Ziemssen (professor of Clinical Medicine in Munich)
Illustrated with 80 wood engravings and color prints

Year: 1885
Publisher: William Wood & Co.

Size: 8 1/4 x 10 1/2 inches
Condition: Fine with some wear to the edges and wear a the top and bottom of the spine. Spine is intact but shows beginnings of wear on the first couple pages. Please see images for details.

If you have any questions or if you need additional images, please feel free to email me.



Detail photos Click to enlarge