⬅ Return to collection
Jewelry : Mid-century
This item has been sold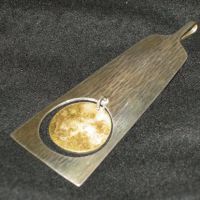 Hans Hansen Sterling Silver Pendant with Gold Vermeil Mid Century Jewlery
"Hans Hansen Sterling Silver Pendant with Gold Vermeil
Interesting bark-like textured surface. May be hung on a chain or neck ring as shown.
Circa 1970s, Denmark. Sterling silver with gold vermeil accent.
Size: measures 3 3/8"L x 1 3/8"W

Hans Hansen Bio: Hans Hansen (1884-1940) opened his own gold and silver smithy in 1906. Initially producing only flatware, by the 1920s his company successfully began designing and producing jewelry. In 1992 the firm began to collaborate with the Georg Jensen Company. The Hansen Silversmithy became a family business once son, Karl Gustav Hansen, began designing and producing silver pieces of his own.
Hans died at only 56 years old, leaving the business to 25-year-old son. The company gained wide acclaim for collection known as "Future," which was comprised of approximately 50 pieces, including brooches, rings, clasps, and earrings. Other designers such as Bent Gabrielsen and Bent Knudsen also worked for Hansen and by the 1980s Allan Scharff was the leading designer."


If you have any questions please feel free to email me.


Detail photos Click to enlarge