⬅ Return to collection
Out Of Print : Mid-century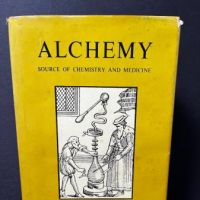 Hardback with Dust Jacket Alchemy Source of Chemistry and Medicine by Charles Thompson 1974 Sentry Press
Alchemy Source of Chemistry and Medicine by Charles Thompson 1974 Published by Sentry Press
Originally published in 1897 documented the ancient Chinese, Egyptians, Arabs and other ancient civilization's use of the then popular science of Alchemy and its root of early medical practices. The use of the Alchemy was not only the bases of modern science, but also was used in creations of "spells" and "occult" formulas.
21 Chapters ranging from Healing potions, early Greek and Roman Wizards and early Medical Practices to Folk Medicine, Fortune Telling to early Apothecary history. A great overview for beginners and people who want to find more information on the development of civilizations and how Alchemy grew into and gave rise to Medicine and treatment of humans.
Published in 1974 by The Sentry Press
Hardback with Dust Jacket
Condition: the binding is tight with light signs of use and wear. Dust Jacket has light bumps to edges and light shelf wear. Some soiling to the inside of the dust jacket and first and last pages. Edges of pages have soil from storage. Please see the images for more details.
Please feel free to email me for more images or if you have any questions.
NOTE:
International orders, please email me your shipping address before purchase with your address to get a shipping quote. The shipping price is for US buyers only.
Detail photos Click to enlarge