⬅ Return to collection
Art : Historical Memorabilia : 1900-1940s
This item has been sold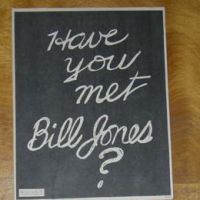 Have you Met Bill Jones? 1927 Motivational Poster Cards w/ Original Easel Stand Box Parker Holladay
Have you met Bill Jones?. This was a 1920's propaganda campaign used to motivate people in the work place. Displayed in work areas to promote industrial efficiency and unify the work force, they were made to show what a model worker was. Marked in the lower left: " USA & Canada 1927 The Parker Holladay Co. 100 E. Ohio St. Chicago Ill.", these cards were created by a man named Charles Rosenfeld who was a sales man for The Mather Co. in Chicago.
The set comes in a easel that was designed to sit on your desk. The set is a collection of 52 cards originally but due to the age of this set, it is missing one card and the easel stand has a tear on the back flap.
Each card has a multicolored lithograph of amazing art deco/ industrial design inspired graphics with a motivational message. On the back of each card is a Result Chart to "Keep a Permanent Record of "Bill's" Activities".
The card is approx. 5 1/2" x 7" and the easel box is approx. 7 1/4" x 9". The overall condition is near mint, with minimal bends to the corners. The colors and print area of each card is in remarkable condition. I have photographed the cards in a set of 6 organizing them according to the numbers on the lower right corner. As you can see the set is only missing number 4 in the set, but due to the amount of other cards it will hardly be missed.
If you have any questions or if you need additional photographs, please feel free to email me.

Detail photos Click to enlarge