⬅ Return to collection
Medical & Oddities : 1800s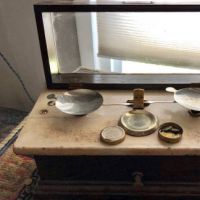 Henry Troemner Scale No. 190 B With Weight Troemner Weights VG Condition Pharmacy Apothecary
Henry Troemner..."was by far the most prolific of balance manufacturers in the United States, making scales and balances for almost every conceivable use: assay, bullion, analytical, pharmaceutical, egg, yarn, specific gravity, candy, moisture, babies, photographic uses, diamond, cream, butter-fat, silk, hatter's fur, solder testing, sand, hosiery, paper testing, tack - nail - screw count, grain tester, and others. His assay balances have been observed quite often in collections and in various sales."

This almost standard in almost all Pharmacy / Apothecaries in places, the Troemner scale was an industry standard from many years.
The beautiful wood case with marble base and glass top could be seen in more photos of pharmacies.

Model: 190 B
Year: Circa early 1900's
Maker: Henry Troemner
Weight: 2 oz.

The original metal tag is in good condition and gives the information on maker and model, please see the images of the metal label.

Size: 13.5 x 6.5 x 7.5
Condition: Very Good with some minor signs of use but over all the scale and case are in great condition. Please see the images provided for details.

If you have any questions or if you need additional images, please feel free to email me.

Note:
shipping cost is for US only, if you are an over seas buyers please email me your shipping address to get a shipping quote.



Detail photos Click to enlarge