⬅ Return to collection
Limited : Out Of Print : Rare & Unique : Modern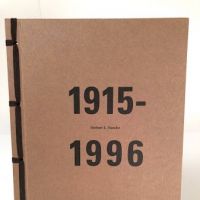 Herbert E. Huncke 1915-1996 A Memorial With Two Rare Original Photos of Huncke and Poker Chip by Jerry Poynton
Herbert E. Huncke 1915-1996 A Memorial Book With Original Photos and Poker Chip Doubling Cube
Introduction by Jerry Poynton, edited by Benjamin Schafer, and designed by Sophie Murer.
Edition of approx. 100 copies
Year: 1996
Producer: Jerry Poynton
Editor: Benjamin Schafer
Designed: Sophia Murer
Stiff Boards with silk tie bonding.
A Memorial tribute to the life of Herbert Huncke and contains work by Huncke along with tributes in prose and poetry by Raymond Foye, John Wieners, Janine Pommey Vega, David Sands, Marty Matz, Valery Oisteanu, Zachary Wollard, Ilka Scobie, and Steven Watson. Illustrations include several photographs, a two page facsimile of Huncke's handwriting.
In addition this rare tribute has printed black and white photograph by Louis Cartwright. Printed on photo paper.
The back end board has an original snap shot of Huncke old and right before his death.
Also included is on the page for Linda Twigg, who also passed away that same year, is a small Poker chip in a glued in bag. Linda was the owner of The Doubling Clube and was bonded to produce chips.
Size: 8 x 10 inches
Condition: Very Fine with a small edge bump on the bottom edge. The first two pages have bent corners. In incredible condition and a very rare artifact of this Beat Poet. Please see the images for a visual description.
If you have any questions or if you need additional images, please feel free to contact me.
NOTE:
The price for shipping is for US only. If you are an international buyer, please email me before purchase with your mailing address to get a shipping quote.
Detail photos Click to enlarge